Books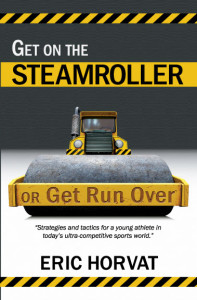 GET ON THE STEAMROLLER OR GET RUN OVER
Available NOW for purchase
Get on the Steamroller or Get Run Over sheds new light on a young athlete's mindset, attitude and their accountability.  This book is a tool to help individuals become effective individual and team players through an understanding of how the thoughts and beliefs they carry with them become transparent on the field.  Athletes will:
Become aware of the importance of goal setting.

Learn the steps they need to take in order to put their plans into action.

Avoid mental pitfalls athletes face daily.

Recognize key emotions successful players have and how to learn from them.

Solidify their thoughts by answering critical questions about each chapter.
The ideas and thoughts are for every athlete looking to get to their next level, or can be used by parents and coaches as a mental training aid.  Get on the Steamroller or Get Run Over compiles over 45 easy-to-understand essays and approaches athletes from a fresh, innovative prospective.
What people are saying:
"This is a damn good book, it's simple yet strong in motivating (with a kick)."
"This book comes down from the ivory towers of "self-help" and speaks to real people. It felt like the writer was pushing me to help myself rather than preaching to me."
"'Get on the Steamroller or Get Run Over' was great read. It details the single thing that is missing in most young softball players game, a strong mental approach. Thank you Eric!"
LOSING HURTS! THATS WHY WINNING FEELS SO GOOD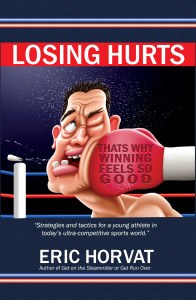 Available NOW for purchase
 LOSING HURTS! THAT'S WHY WINNING FEELS SO GOOD is for athletes. Most of our mistakes are so common that they are seen as normal. We view those choices as the best things for us, but sometimes they are the worst things for us. It is VERY easy to follow the herd and do what the rest of the pack is doing. But when it comes to living out the athletic career of our dreams that is NOT what we should be doing. If you want to really increase your potential and your results, then you are in the right place. Losing Hurst! That's Why Winning Feels so Good has simple and practical chapters written simply and broken up for an easy read.